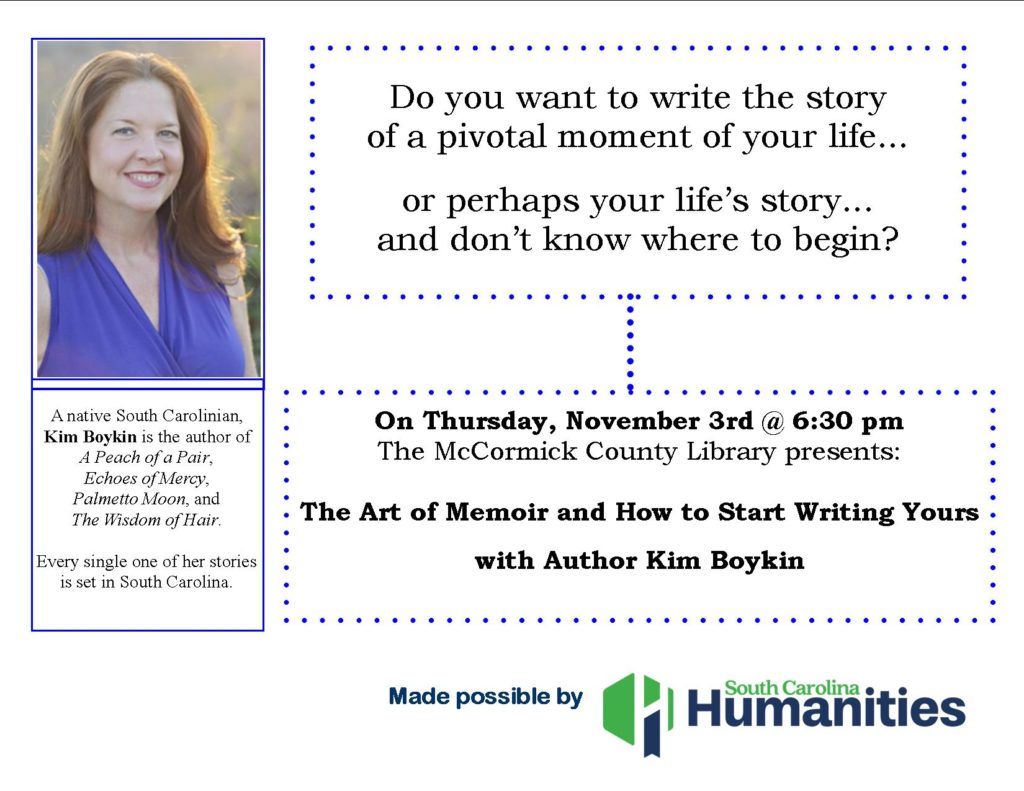 Do you want to write the story of a pivotal moment in your life, or perhaps your life's story? Would you like help getting started ? On Thursday, November 3rd @ 6:30 pm, the McCormick County Library presents: The Art of Memoir and How to Start Writing Yours with author Kim Boykin. Everyone is invited to this free program made possible by the SC Humanities. Light refreshments will be provided by the Friends of the McCormick Library.
About Kim Boykin:
As a stay-at-home mom, Kim Boykin started writing, grabbing snip-its of time in the car rider line or on the bleachers at swim practice. After her kids left the nest, she started submitting her work, sold her first novel at 53, and has been writing like crazy ever since. A native South Carolinian, she lives just across the state line in Charlotte, but every single one of her stories is set in South Carolina. She is the author of A Peach of a Pair, Echoes of Mercy, Palmetto Moon, and The Wisdom of Hair. Two of her books have been named OKRA picks by the Southern Independent Bookseller Alliance (SIBA,) and she has been nominated for The Pat Conroy Award.
About SC Humanities:
The mission of South Carolina Humanities is to enrich the cultural and intellectual lives of all South Carolinians. This not-for-profit organization presents and/or supports literary initiatives, lectures, exhibits, festivals, publications, oral history projects, videos and other humanities-based experiences that reach more than 250,000 citizens annually. South Carolina Humanities receives funding from the National Endowment for the Humanities as well as corporate, foundation and individual donors.  It is governed by a volunteer Board of Directors comprised of community leaders from throughout the state.