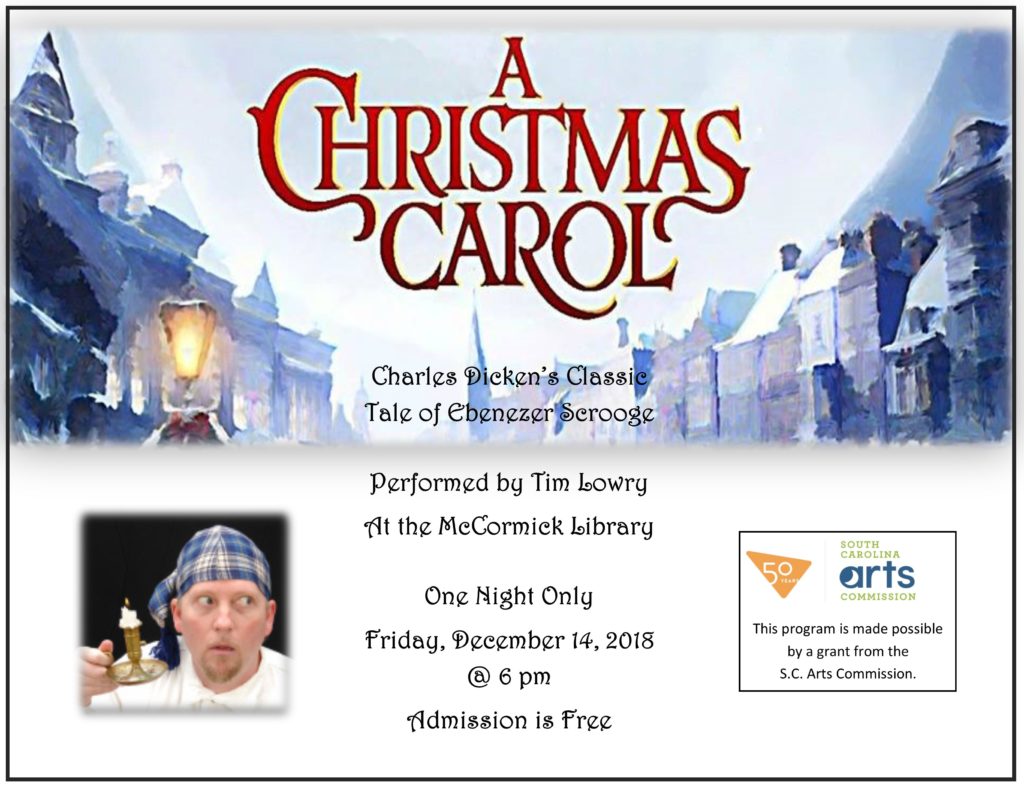 One night only. Just one special night changed Ebeneezer Scrooge for good. Now you have the chance, for one night only, to experience the special talent of Tim Lowry as he brings to life the classic tale, A Christmas Carol by Charles Dickens. Dressed in authentic Victorian costume, Lowry plays all the parts, from Bob Cratchet to Tiny Tim to the Ghost of Christmas Past. It is a remarkable feat and has helped make Mr. Lowry a national storyteller of much acclaim.
You could travel to Charleston or to the International Storytelling Center in Jonesborough, Tennessee to see Tim perform at a ticketed event. Or you could see him right here in McCormick on Friday, December 14th at 6 pm in the McCormick County Library… at no charge. Thanks to a grant from the SC Arts Commission, this unique holiday event is available to everyone in our community.
The show is suitable for adults and children ages 10 and up. Seating is limited and is first come, first served. Light refreshments will be provided by the Friends of the McCormick Library.
Tim grew up in southeastern Kentucky where he learned the art of storytelling from Appalachian folk who spun yarns and told tales to entertain, teach morals, and pass along local history. He studied drama in high school and toured the East Coast in 1987 with a drama school from Greenville, South Carolina. After earning a degree in Theater, Tim taught English language arts for five years. He left the classroom in 2000 to become a full-time professional performer.
The South Carolina Arts Commission is the state agency charged with creating a thriving arts environment that benefits all South Carolinians, regardless of their location or circumstances. Created by the South Carolina General Assembly in 1967, the Arts Commission works to increase public participation in the arts by providing services, grants and leadership initiatives in three areas: arts education, community arts development and artist development. Headquartered in Columbia, S.C., the Arts Commission is funded by the state of South Carolina, by the federal government through the National Endowment for the Arts and other sources. For more information, visit www.SouthCarolinaArts.com or call (803) 734-8696.
About the McCormick County Library
The McCormick County Library provides access to ideas and information representing a wide diversity of views and expressions. The library strives to meet the informational, recreational, and lifelong learning needs of all its users, while placing particular emphasis on creating young readers.