The Growing Season is here, in more ways than one for McCormick County. Because, beginning in April, the entire county is reading The Growing Season: How I Built a New Life and Saved an American Farm by Sarah Frey. Hundreds of copies of this book are moving through the community, passing from reader to reader. The goal of this library project is to bring people together through a shared reading experience connected to agriculture. The project is a grant partnership with the new S.C. Governor's School for Agriculture at John de la Howe. The students and staff there are also participating in the county-wide reading initiative. Hopefully, they can gain some inspiration from the book – a memoir that tells the story of one tenacious woman's journey to escape rural poverty and create a billion-dollar farming business without ever leaving the land she loves. Sarah Frey began selling watermelons from the back of an old pickup truck at age 15. Today, Frey Farms has become one of America's largest fresh produce growers and shippers, with farmland spread across seven states. Thanks to the millions of melons and pumpkins she sells annually, Frey has been dubbed "America's Pumpkin Queen" by the national press.
There are several ways you can read this incredible story:
If you already have a copy, read it soon and pass it on to a friend.
The library is giving away free copies while supplies last, first come first serve.
The library is also loaning print copies that must be returned after reading.
The library has ebook and downloadable audiobook copies available online through the Jasmine Digital Library.
Books On Main, the bookstore in downtown McCormick, has copies available for purchase at $12 each.
Copies are available from Barnes & Noble, Amazon, Walmart, Penguin Random House and other booksellers.
Finally, after everyone's been reading The Growing Season in April and May, we will have the chance to meet Ms. Frey in person when she joins us for our biggest-ever author's night program on May 12th. She will be the guest of honor at an outdoor event hosted by the SC Governor's School for Agriculture at John de la Howe. There will be food, live music, a book signing and Sarah will answer questions in a public Q&A forum. Watch for more details about this upcoming event and in the meantime… happy reading!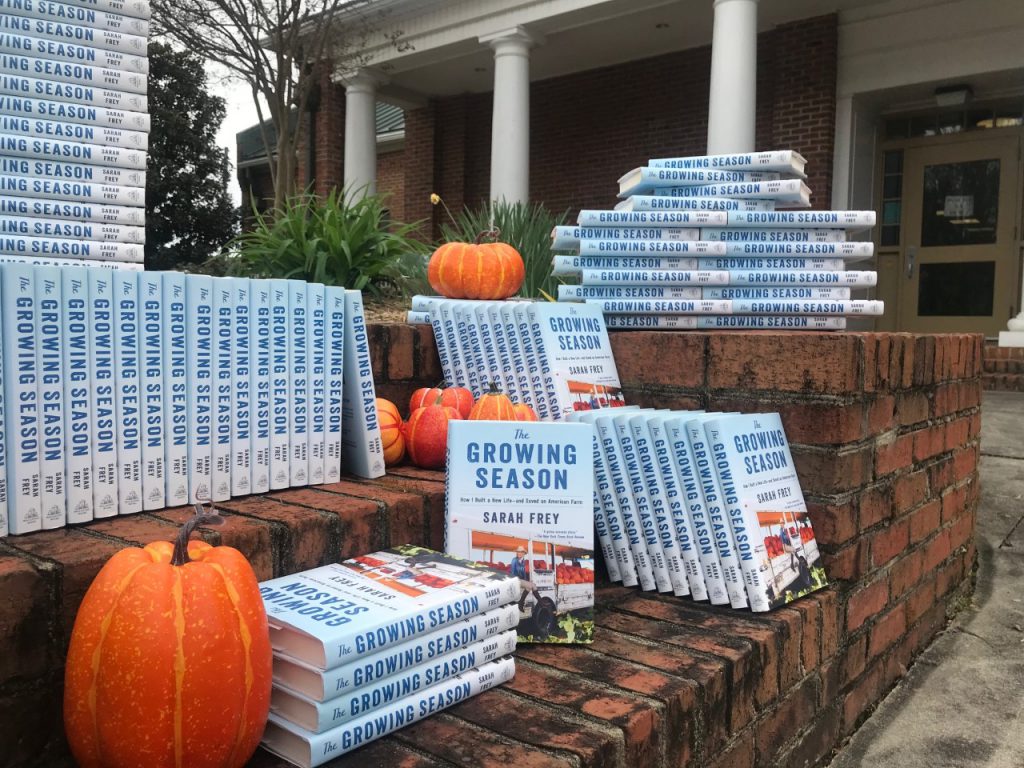 About the Library Grant Partnership
In addition to the county-wide reading program, the McCormick County Library is working with the SC Governor's School for Agriculture Library at John de la Howe to provide both students and county residents with a wide-ranging collection of agricultural books, magazines and journals. This partnership is also providing students hands-on learning experience with a hydroponic growing system. All these grant-funded activities are made possible by a Library Services and Technology Act grant from the Institute of Museum and Library Services administered by the South Carolina State Library.
About Sarah Frey and Frey Farms
Frey Farms is a Certified Woman Owned Business founded by Sarah Frey in 1992. Today, headquartered in Keenes, Illinois, Sarah and her four older brothers operate farms and facilities in seven states. Frey Farms distributes its fruits and vegetables throughout the country through its Sarah's Homegrown label. With a mission to end food waste in the fresh produce industry, the family makes natural food products and beverages from imperfect or "ugly fruit." They feature a complete line of juices through Sarah's Homegrown Tsamma Watermelon Juice. For more info, visit https://freyfarms.com or follow Sarah Frey on twitter @realsarahfrey
About the South Carolina Governor's School for Agriculture at John de la Howe
The South Carolina Governor's School for Agriculture at John de la Howe (JDLH) is a public residential high school focused on providing a unique and challenging agricultural education program. Located in McCormick, SC, on 1,310 acres of forest and farmland, students grades 10th -12th have the opportunity to receive hands-on training in the fields of agribusiness, forestry, equipment operation, land management, food science, and more. Learn more by visiting https://delahowe.sc.gov