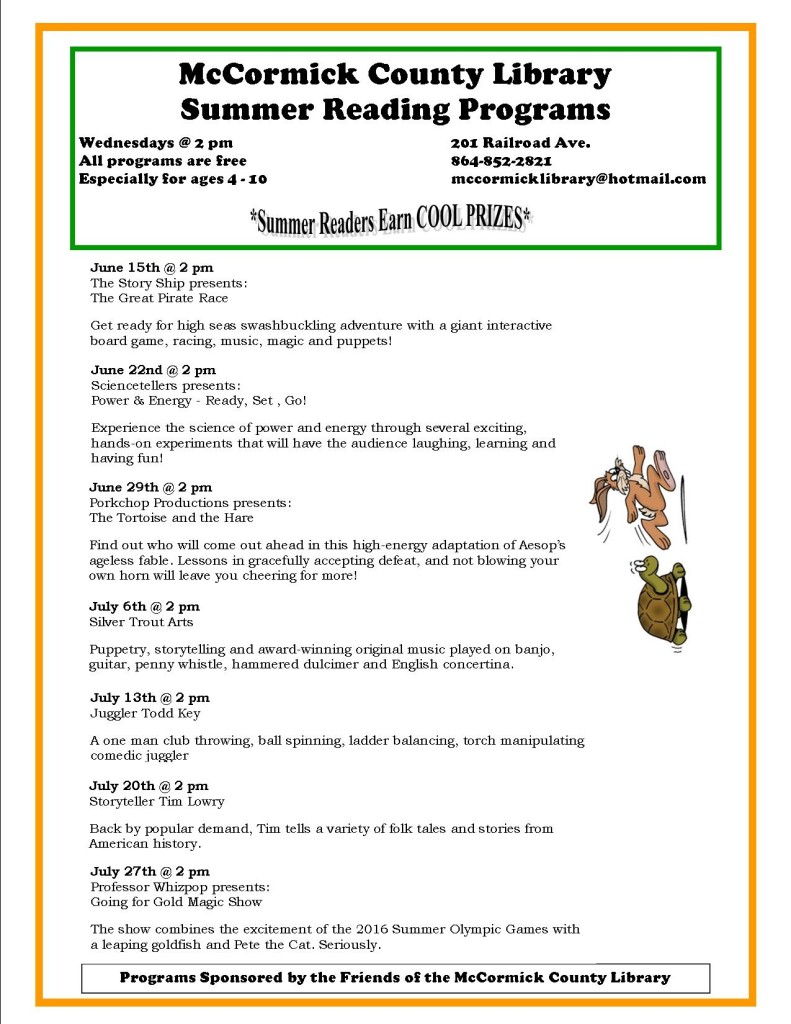 The McCormick County Library is ready for summertime with an exciting schedule of fantastic programs for children. Performances will be held at the library each Wednesday at 2 pm from June 15th until July 27th. These programs are free and are especially good for children aged 4 to 10 years old, but all ages are welcome and admission is free. Parents or caregivers must remain in the library during the programs.
In addition to live performances, the library will also provide a simple way for children to keep track of the amount of time they spend reading this summer. If completed, this reading record can be exchanged for a variety of prizes including books, movies, t-shirts, and games.
Reading is its own reward, but many reluctant young readers benefit from a little extra incentive in the beginning. Studies have shown that children will experience a backward slide in literacy during the long school break unless they are enabled and encouraged to read during the summer. A study by researchers at the University of Rochester Medical Center showed that summer reading is significantly more effective if kids are allowed to choose their own books. The library has a wide selection of material for every interest and reading level.
To sign up for the summer reading program or to register for a library card, stop by the library located at 201 Railroad Avenue behind the Post Office. The library is open Tuesday – Thursday from 10 am until 7 pm, Friday from 9 am until 6 pm, and Saturday and Sunday from 1 pm until 5 pm. The Summer Reading Program is made possible by the support of the McCormick Friends of the Library and their nonprofit bookstore, Books on Main, in downtown McCormick. If you would like to contribute, shop at the bookstore or donate your old books to the library. All types of books, DVDs, and CDs are welcome except for VHS tapes, magazines, encyclopedias, or old textbooks. For more information contact the library at (864) 852-2821 or by email: mccormicklibrary@hotmail.com.