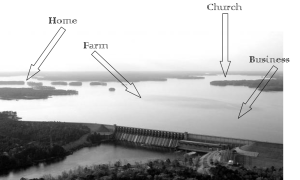 Between December 20, 1951 and March 2, 1952, people looked out over the rolling hills and prime bottomland along the Savannah River and its tributaries as the waters, backed up by a massive new concrete dam at Clarks Hill, began to swell, slowly inching streams out of their banks. Different people viewed the man-made transformation with different emotions – sadness, indignation, awe, excitement, reverence, amazement, nostalgia, and anticipation – as 70,000+ acres of countryside was forever changed into an eternal body of water. The Clark Hill Project, later renamed Thurmond Lake, consumed 20% of the land area of McCormick County.
What exactly was lost when the lake was created? What homes, barns, gardens, orchards, farms, places of worship, cemeteries, ferry sites, country stores, and other commercial buildings were given up to create the third-largest artificial lake east of the Mississippi River?
Local historian, Bobby F. Edmonds has recently recovered and published some answers to that question in his new book entitled A Culture Lost to Thurmond Lake. Edmonds discovered that during the course of the land acquisitions phase for the dam and lake in 1948-49, the U. S. Army Corps of Engineers created and preserved files for the project that included more than 500 photographs of the area accompanied by written documentation that sheds light on the living conditions and activities of the people who lived there. Although these files were not intended to be used as architectural, cultural or historic documentation, they now provide a fascinating view of western McCormick County in the early twentieth century.
On Thursday, July 9th at 6:30 pm in the McCormick County Library, Bobby F. Edmonds will discuss and sign copies of his book. Refreshments will be provided by the Friends of the McCormick Library. You can also find a copy at Strom Drug, Books on Main, Chamber of Commerce, McCormick Messenger, Willington Book Store, McCaslan's in Greenwood, or from the author at cedarhill@wctel.net.