In 1912, just prior to the start of WWI, the German General Paul von Hindenburg told an interviewer that he never read poetry because, "It might soften me."
A kinder, gentler von Hindenburg might have done the world more good than harm.
With this in mind, please come to the McCormick County Library on Sunday, March 24th at 3 pm for a little "softening" via light verse. Sterling Eisiminger, Professor of English and Humanities at Clemson University, will conduct a brief but therapeutic ramble through some the best comic verse of the last century or so – to include rhyming slang, nursery rhymes, Lewis Carroll's "The Jabberwocky," T.S. Eliot's "Macavity: The Mystery Cat," song lyrics, rap, rhymed greeting and departure lines, greeting card verses, free verse, light verse, sport cheers, tongue twisters, and, of course, a laurel of limericks.
This poetry program is sponsored by The Humanities CouncilSC, a state program of the National Endowment for the Humanities; inspiring, engaging and enriching South Carolinians with programs on literature, history, culture and heritage.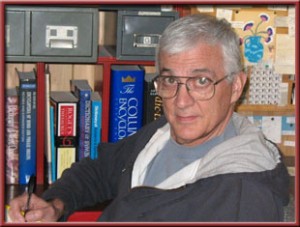 Presenter Sterling (Skip) Eisiminger was born in Washington D.C. in 1941. The son of an Army officer, he traveled widely but often reluctantly with his family in the United States and Europe. After he finished a master's degree at Auburn and took a job at Clemson University in 1968, he promised himself that he would put down some deep roots. These roots now reach back through 40 years of red Carolina clay. In 1974, Eisiminger received a Ph. D. from the University of South Carolina, where poet James Dickey "guided" his creative dissertation. His publications include Non-Prescription Medicine (poems), Felix Academicus (personal essays), Omi and the Christmas Candles (a children's book), and Wordspinner (word games). He is married to the former Ingrid ("Omi") Barmwater, a native of Germany, and is the proud father of a son, a daughter and grandfather to four grandchildren.