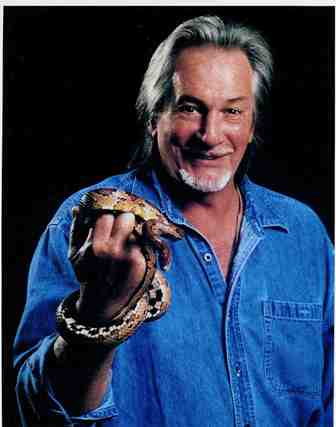 The legendary Okefenokee Joe will present his acclaimed Earth Day Every Day – Snake Awareness Presentation at the McCormick County Library on Saturday, April 18th, 2009. There will be two shows, one starting at 11 am and another at 2 pm. Admission is free but seating is limited. If the weather permits, the presentation will be held outside to allow for greater attendance.   
          Okefenokee Joe brings a variety of native snakes, both venomous and non-venomous, and teaches about their identification, habits, and importance. Joe also brings his guitar and sings a few songs about life in the Okefenokee Swamp and the importance of all wildlife. His presentations are entertaining and educational and are enjoyed by all ages.  
          Many people have seen Okefenokee Joe in his Emmy Award winning outdoor program "Swampwise" which is aired on Georgia Public Broadcasting. He has also been featured on Dateline NBC, CNN, TBS, and the Outdoor Channel. His mission is "to instill in all of us a deeper understanding, appreciation and respect for the Earth we live upon, our environment and our natural resources." Joe's knowledge comes from first-hand experience living in the Okefenokee Swamp for many years. Joe now devotes his time to traveling throughout the South teaching both children and adults how we can coexist with nature. His original songs and stories greatly enhance that message.
          The McCormick County Library is holding this program on Saturday, April 18th in conjunction with the 3rd annual Spring Bonanza in downtown McCormick and in conjunction with National Library Week.
          This program is made possible by support from the Friends of the McCormick Library.