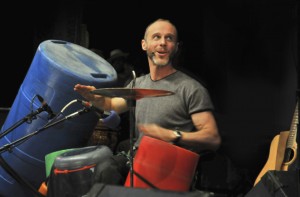 The McCormick County Library will host two free concerts for children and their families during this year's Gold Rush Festival on Saturday, September 21st.  Award-winning musician Billy Jonas of Asheville N.C. will perform his original voice and percussion based songs using an eclectic mix of instruments that include buckets, barrels, bottles, keys and cans. "His performances are interactive and fun with catchy songs and clever lyrics played on recycled instruments and guitar," said library director Paul Brown. The shows will begin at 11 am and again at 1 pm. Each will be about 45 minutes long and they will be held at the library, rain or shine. If the weather is nice, you can expect an outdoor concert in the new playground, if not the performances will be held in the library's large meeting room. This event is sponsored by the Friends of the McCormick Library.     
If you want to sample Billy's music, check this out:   Billy Jonas 
He makes spirited, straightforward music that is accessible to anyone and everyone, regardless of age or cultural background. His upbeat, engaging presence encourages active audience participation. His concerts are a magical mix of stagecraft and wholesome, open-ended, anything-can- happen spontaneity. Billy Jonas' recordings and live concerts across the US and Canada have generated an enthusiastic following. His CD "What Kind of Cat are You?!" received multiple awards including a First Place/Gold from AFIM (American Federation of Independent Musicians), and a Parent's Choice Gold.  Jonas' videos have garnered critical acclaim, including Parents Choice Awards and a New York Times "Best" listing. In 2010 he was invited to present a concert at the White House!
You can find out more about the activities during the Gold Rush Festival in McCormick by clicking here.