South Carolina author Wayne Stinnett will present at the McCormick Library on Thursday, November 10th starting at 6 pm.
Wayne Stinnett is a USA Today Bestselling author of more than 30 novels. He's also a veteran of the United States Marine Corps, as is his main character, Jesse McDermitt. His books are flavored with salt, sand, and seawater, taking the reader on a journey through tropical destinations like the Virgin Islands, the Florida Keys, Mexico, & Cuba.
Appetizers, dessert and refreshments served. Book sales and signing will follow.
Free.
About the Author:
Stinnett has worked as a deckhand, commercial fisherman, dive master, taxi driver, construction manager, and truck driver, among many other things. He lives with his wife and youngest daughter in the South Carolina Lowcountry, just a few miles from Parris Island, where he went to boot camp. They also have three grown children, four grandchildren, a crazy Carolina dog, and a large cage of parakeets. He grew up in Melbourne, Florida, and has also lived in the Florida Keys, the Bahamas, and Cozumel, Mexico.
About his new novel: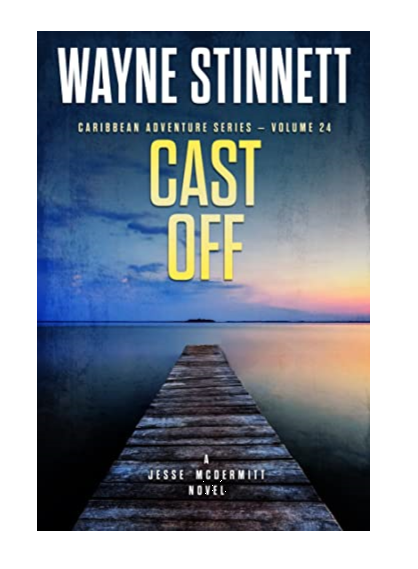 Cast Off – Available November 1, 2022
Hot on the heels of Stinnett's July 2022, Man Overboard release, a USA Today Bestseller, he brings his main character back to the easy life in the Florida Keys, where the 24-volume adventure began.
After a terrible defeat in Key West, where the subject of Jesse McDermitt's identity fraud investigation gets away, and which almost costs him dearly, Jesse returns home to his island in the Content Keys, determined to keep those he loves safe from harm.
He makes plans to fly his family and friends to the Leeward Islands for a very special occasion, unaware of events taking place on one small uninhabited island located a short distance from his destination—events that will suck him right back into the fray, as a past nemesis rears their head.
Gold will turn even the most docile into greedy, dangerous people. When the question of rightful ownership is brought up, legal professionals and government officials on the island, as well as those from France argue over a treasure estimated to be worth $20,000,000. But what is the price of one human life?
The simple life isn't what it's cracked up to be, and danger abounds in the picturesque city of Gustavia, on the French island of St. Barthelemy, and speeding Mini Mokes on steep mountain roads isn't the cause.